Back to the Renaissance
"As a young man I studied the world-changing impact of the Italian Renaissance. Today, we need the values of that era more than ever -achievement in the arts and sciences, respect for the dignity of the individual,freedom of expression. I want to share my homeland in the heart of Renaissance Italy with you.Join our Renaissance Evolution team and fellow Italian enthusiasts this autumn as we take ajourney through the heart of Renaissance Italy. I look forward to experiencing with you!"
Experience with your senses the Renaissance, looking at the stars with Galileo, understanding the artist's mind with Raffeello, discovering world's mechanism with Leonardo, listening to the Renaissance music, touching the craftmanship, tasting traditional food, smelling the Renaissance perfumes
A memorable journey into the heart of Renaissance Italy. As an exclusive member you will experience this intimate week long tour with breathtaking sites of Rome, Umbria and Tuscany while learning about the beautiful history of the Italian Renaissance and meeting new friends along the way.
DAY 1.
Check in at hotel in Rome

Meet and greet cocktail reception
DAY 2.
Enjoy a private tour in Vatican gardens

Leave for Umbria

Arrive at the beautiful private Relais, spa services are available upon request.

Night tour of the city of Spoleto.
DAY 3.
Short tour of 3 Umbria's Renaissance towns.

Enjoy a Renaissance dinner surrounded by olive trees while looking at the sunset: dinner prepared by a 2 stars Michelin chef.
DAY 4:
A day of eating and drinking.

Leave for Tuscany. (Medici and Mecenate Members)

Arrive at historical Medici's villa

Classical Tuscany dinner
DAY 5:
Visit Florence discovering places that only the locals know.

Dinner in a fairytale trattoria in the heart of Florence
DAY 6:
For shopping lovers, we can arrange a private tour where the luxury brands manufacture their artworks
DAY 7:
Lunch at Ferragamo's Estate

Leave for Rome

Enjoy your last night in Rome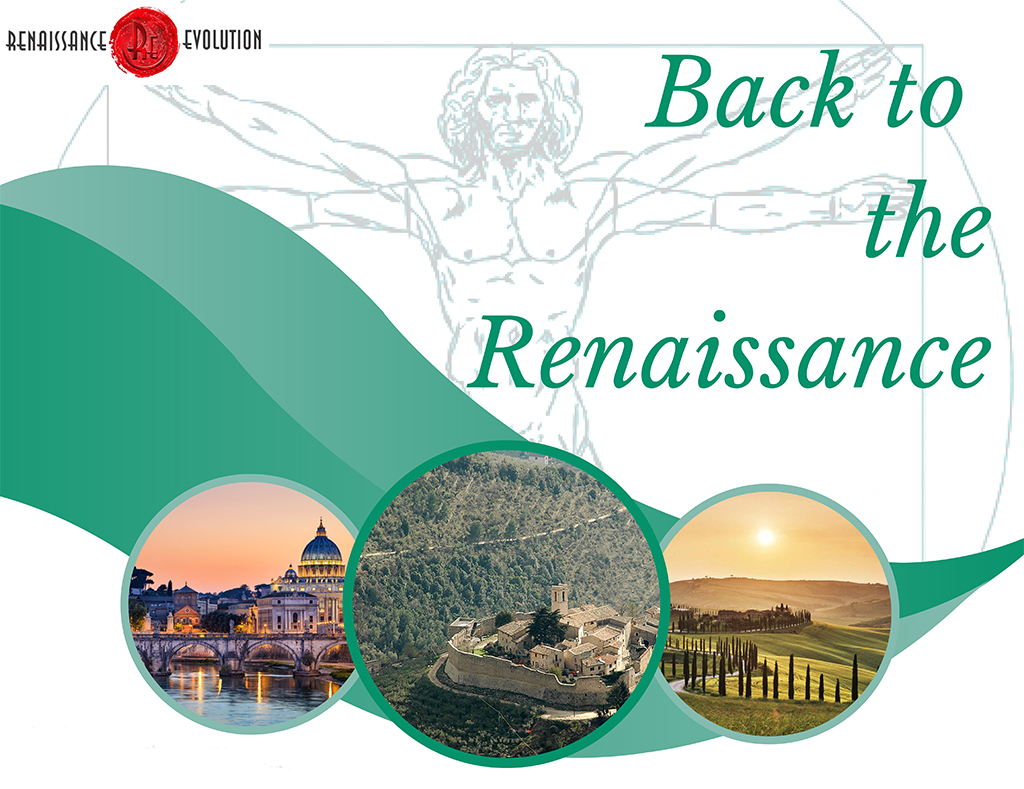 Sign up for Renaissance Evolution emails and updates on upcoming events.