1. Academy Overview
Interactions with community stakeholders, corporate managers, and consumers from multiple countries of origin and various cultural backgrounds is the norm. Understanding how to approach and cohesively apply inclusive business practices that allow seamless navigation of the continually evolving diversity landscape are key in the successful operation and expansion of companies. Our integrative approach to multinational politics, culture, communications, and philanthropy as well as legal, regulatory, economic, and environmental factors position our Chief Cultural Officer (CCO) candidates to successfully become the multinational faces both internally and externally for their corporations. This new C-Level position will interact with internal divisions of Government Affairs, Diversity, Communications, Strategy, Human Resources, Financial, Operations and others with direct impact on the corporate profit and loss.
This complete view of the company and its global, national, and regional operations as well as an understanding of the local cultures and leading stakeholders in markets represented will position the CCO candidate as a corporate ambassador. Much like a Secretary of State or Minister of Foreign Affairs, The Chief Cultural Officer will ensure that a company's global approach to business is market relevant, profitable, and sustainable.
OUTCOMES
Participants will gain insight, training, and tools to positively impact internal and external corporate culture and operations.
Via the use of the Organizational Challenge exercise, participants will gain an understanding of organizational culture strengths and weaknesses to maximize its positive impact on the organizations' operations / bottom-line.
Participants will build an impact focused global peer network from cohort and ongoing graduate pipeline.
2. Academy Curriculum
The training program: Deconstructs the business process considering the global imperative and best practices in cultural humility to create additional organizational value through the installation of a Chief Cultural Officer (CCO). In addition to the person-centered sensitivity that values each of the workers at multiple levels, the CCO is tasked and skilled with managing the cultural nuances of the workers inside and outside the corporation. The goal is to create a suitable bridge for the communication of context and value both from the corporation outward and from the host culture inward.
REQUIRED TEXTS
Masiero, R. (2020). Chief Cultural Officer: 8 Pillars Toward Sustained Global Influence. United States: Renaissance Evolution Incorporated.
SKILLS & ASSESSMENTS
| Skill | Assessment |
| --- | --- |
| CREATE AN APPROACH TO THE COURSE | 5-Minute Presentation Rubric |
| ARTICULATE THE FOUNDATION FOR CREATING A NETWORK OF GLOBAL INFLUENCE | 8 Objective Examinations |
| CONNECT GLOBAL INFLUENCE SKILLS WITH THE 8 CCO PILLARS AS A STATEMENT OF ETHICS | 3 Implementation 5-minute Oral Presentation Rubric |
| PRESENT A STRATEGY FOR CCO IMPLEMENTATION IN ORGANIZATIONS | Group Presentation Rubric |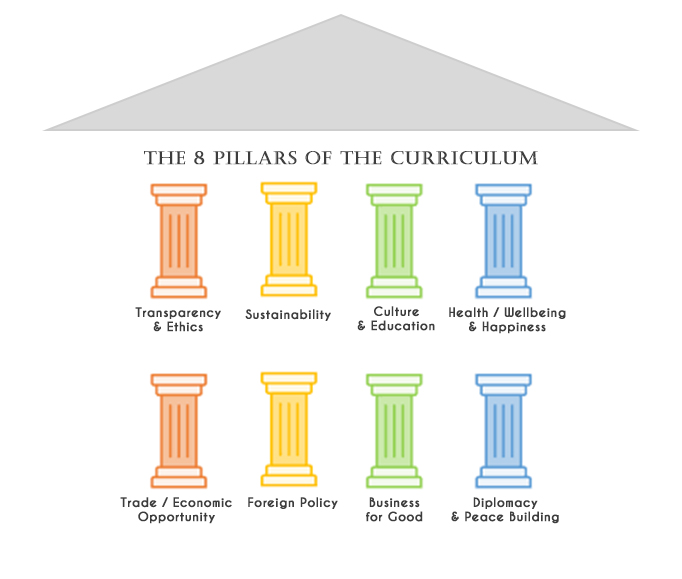 3. Program Approach
The commitment is 5 hours per week including preparation and study time and class time. Participants are required to engage in a two-hour live session each week for 12 weeks covering the content of the course.
Prior to reading course textbook, each participant will be provided with an Organizational Challenge. Each participant must prepare a top level 3-minute presentation describing their approach prior to course exposure.
Participants should read the course textbook at their own pace with at least a chapter per week according to the schedule of content presentations having read the current topic prior to the content class presentation.
The Organizational Challenge exercise will be refined up to 3 times prior to the final group presentation. By the third and final revision, participants will share their original approach to the situation and their refined approach after exposure to the course.
The instructor will assign the cohort into groups of 5 participants each. Participants will collectively tackle the same real-world organizational scenario that could benefit from the application of the CCO Methodology. Each group will create a strategy applying course learnings. Strategy will be presented by each group.
4. Academy Graduates
Participants must attend at least 80% of the Academy program and complete all assessments with at least 80% proficiency to graduate and receive the Academy's certificate of completion. Academy graduates can list this credential on resumes and will have the ability to participate in further Renaissance Academy programming including renewal of certification, future events offered by Renaissance Evolution, and alumni reunions.
5. Course Schedule
Week 1: Introductions and initial Organizational Challenge Presentations
Week 2: The Epicenter of Opportunity
Week 3: The Art of Human Connectivity
Week 4: Relationship Building
Week 5: Disrupting One Another
Week 6: Seeing the Impossible as Possible
Week 7: Creating Greatness Together
Week 8: Shaping Evolution in the Global Economy
Week 9: Learning Pillars & Organizational Challenge Revision 1 of 3
Pillar 1: Culture & Education
Pillar 2: Health / Well-being & Happiness
Pillar 3: Transparency & Ethics
Week 10: Economic Pillars & Organizational Challenge Revision 2 of 3
Pillar 4: Business for Good
Pillar 5: Sustainability
Pillar 6: Trade / Economic Opportunity
Week 11: Global Impact Pillars & Organizational Challenge Revision Final
Pillar 7: Diplomacy & Peace Building
Pillar 8: Foreign Policy
Week 12: Final Organizational Challenge Group Exercise
6. How to Apply
To apply, please fill out and submit the application found here.
Academy Semester Dates
Fall 2023 Program: October 2 – December 8
Application Deadlines
For more information, please contact  [email protected]
7. Testimonials
"The Course proposes a fresh and innovative approach to the business world. Adapting to change, adding value to an organization, and anticipating customer trends can all be improved with the right team in place - and consideration of a company's culture should be front and center to assure success". - Daniel Garza, President of Libre Initiative and Former Associate Director of the Office of Public Liaison in the White House.
"The sections on the role of cultural disruption are particularly compelling, in addition to the overall emphasis on the general of the individual in the broader corporate ecosystem. I look forward to seeing C-Suites integrate the important role of CCO". - Victoria Fassrainer, Author & International Affairs Specialist
"The course lays out a clear, concise, and compelling reason for organizations and institutions to consider creating the position of Chief Cultural Officer. Now more than ever we need to think strategically about how to promote global competence and effectively promote cross-cultural teams. The CCO will play a key role in developing the vision and effectively implementing a much-needed organizational culture shift". - Dr. Anthony J. DeNapoli. Dean of International Affairs Nova Southeastern University
"Broward County was thrilled to introduce the innovative concept of the Chief Cultural Officer at our 2019 Florida International Trade and Cultural Expo (FITCE) uniting leaders and business delegations from 60 countries around the world. The role of the Chief Cultural Officer in a corporation should be universal and is of much significance in today's global landscape as it helps businesses better comprehend the impact and outcome of people-to-people relationships on their success". - Dale V.C. Holness, Mayor of Broward County, Florida
"As an educator for international trade via our 11 Steps to Exporting program, we try to instill the importance of fostering trust and relationship-building as strategies to conquer new international markets. The Chief Cultural Officer represents the personification of this philosophy and every business should consider creating this role in their organization as a key to success". - Paola Isaac Baraya, Economic Development Specialist
"We are in an age of disruption and acceleration resulting in a rapid change on a global scale. The future is "now" and Dr. Masiero's book is timely as it addresses the need for corporations to rethink what they do which includes a cultural shift focused on eight pillars. The role of the Chief Cultural Officer is impactful acting as the bridge between external and internal audiences resulting in the successful execution of the vision. This book is a great read for senior leadership as it will capture your attention and create opportunities to think differently and be ahead of the curve when it comes to change and successful outcomes". John Wensveen, Ph.D., Chief Innovation Officer & Executive Director NSU Broward Center of Innovation - Nova Southeastern University Alvin Sherman Library, Research, and Information Technology Center
8. Frequently Asked Questions (FAQs)
Apply Now
Renaissance Evolution is a 501(c)(3) charitable organization and charitable contributions are tax-deductible for income, gift, and estate taxes. Our federal tax identification number is 82-3403407.